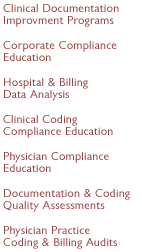 Physician Practice Compliance Program
Development of effective internal procedures to ensure compliance with regulations, payment policies and coding rules.

Improved medical record documentation.

Improved education for practice providers and staff.

A reduction in claim denials.

Streamlined practice operations through better communication and more comprehensive policies/procedures.

Avoid potential liability arising from non-compliance.

Reduce exposure to penalties.
Documentation, Coding and Data Quality Review
Implementation or revision of a concurrent Medical Record Review Process for Physician Coding .

Evaluation of coding accuracy, appropriateness of the services provided, as documented in the medical record, in conjunction with the encounter form completion, site of service, support and accuracy of charges billed .

Validate appropriate assignment of the diagnoses, in correlation to the level of or type service selected, and use of modifiers assigned .

Verify that all services rendered, are captured and billed .

Review of how charges and services are generated and processed .
Develop the Seven Basic Compliance Elements
for Individual and Small Group Practices
Implementing compliance standards and policies & procedures.

Assign compliance monitoring efforts to a designated compliance officer, or contact.

Conducting comprehensive training and education.

Conduct internal monitoring and audits focusing on high-risk billing and coding issues by performing periodic, random, prospective audits.

Develop accessible lines of communication.

Enforce disciplinary standards, employee accountability, consistently and uniformly.

Respond promptly to detected offenses and undertake corrective actions.