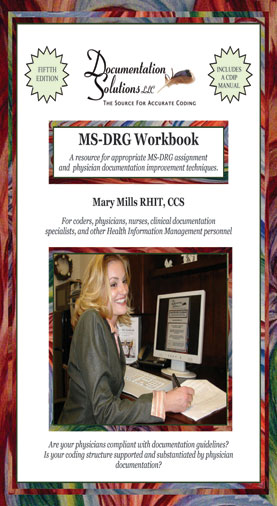 Mary Mills, RHIT, CCS has written a MS-DRG workbook that contains valuable information on MS-DRG optimization for all 25 MDCs. It also includes a manual on how to appropriately query physicians regarding medical record documentation deficiencies. This book covers all the 751 MS-DRGs and has all the correct CMS DRG weights and GMLOS for 2015. You will need access to the AHA Coding Clinics, a 2015 ICD-9-CM coding book, and the Federal Register or DRG Expert for referencing when using this book. These references are usually found in the coding area of the Medical Records Department.

The workbook also alerts the reader to look for specific documentation to support accurate code assignment which results in the appropriate MS-DRG assignment. At the end of several MDCs there are exercises to test the knowledge retained from the educational material provided in the previous chapter.

The 2015 MS-DRG Workbook is a spiral book that is updated every year. This spiral book is free of charge for clients that purchase the CDI program. Our access file for tracking and measuring data is also included with our program.

The spiral book is included with the clinical documentation specialist or coding education services that we also provide for our clients. For more information on ordering just the book at $125 plus shipping and handling, please call 734-838-0234 or email info@DocSolutionsLLC.com. We accept personal checks and PayPal.

For more information on the author Mary Mills, click here.